Skip to Main Content
It looks like you're using Internet Explorer 11 or older. This website works best with modern browsers such as the latest versions of Chrome, Firefox, Safari, and Edge. If you continue with this browser, you may see unexpected results.
Book Info: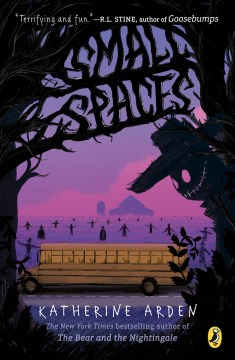 Small Spaces by Katherine Arden
After eleven-year-old Ollie's school bus mysteriously breaks down on a field trip, she has to take a trip through scary woods and must use all of her wits to survive. She must stick to small spaces.
Staff or Student Reviews
Small Spaces, by Katherine Arden, is a horror story that really leaves one guessing at what will happen next. Ollie steals a book and escapes into reading every chance she gets. She takes the book with her on a school field trip to a farm and mysteriously finds that the things she has read in the book may not be complete fiction. At a graveyard on the farm, she finds names of characters from the book. There are scarecrows around the space which give her the feeling they are watching. When the bus breaks down on the way home, the creepy bus driver gives a cryptic message to avoid small spaces at night, a warning she also read in the book. Ollie begins to realize that she and her classmates may be in danger. Small Spaces is an exciting book that I enjoyed because the main character works to solve the mystery through teamwork. I would rate this book four stars. - Mrs. Searle
More Books Like Small Spaces
City of Ghosts

by

ISBN: 9781338111026

Publication Date: 2019-09-03

From #1 New York Times bestselling author Victoria Schwab comes a sweeping, spooky, evocative adventure, perfect for fans of Stranger Things. Ever since Cass almost drowned (okay, she did drown, but she doesn't like to think about it), she can pull back the Veil that separates the living from the dead . . . and enter the world of spirits. Her best friend is even a ghost. So things are already pretty strange. But they're about to get much stranger. When Cass's parents start hosting a TV show about the world's most haunted places, the family heads off to Edinburgh, Scotland. Here, graveyards, castles, and secret passageways teem with restless phantoms. And when Cass meets a girl who shares her "gift," she realizes how much she still has to learn about the Veil -- and herself. And she'll have to learn fast. The city of ghosts is more dangerous than she ever imagined.

Thornhill

by

ISBN: 9781626726543

Publication Date: 2017-08-29

Parallel stories set in different times, one told in prose and one in pictures, converge as a girl unravels the mystery of the abandoned Thornhill Institute next door. 1982: Mary is a lonely orphan at the Thornhill Institute For Children at the very moment that it's shutting its doors. When her few friends are all adopted or re-homed and she's left to face a volatile bully alone, her revenge will have a lasting effect on the bully, on Mary, and on Thornhill itself. 2017: Ella has just moved to a new town where she knows no one. From her room on the top floor of her new home, she has a perfect view of the dilapidated, abandoned Thornhill Institute across the way, where she glimpses a girl in the window. Determined to befriend the girl and solidify the link between them, Ella resolves to unravel Thornhill's shadowy past. Told in alternating, interwoven plotlines--Mary's through intimate diary entries and Ella's in bold, striking art--Pam Smy'sThornhill is a haunting exploration of human connection, filled with suspense. AKirkus ReviewsBest Book of 2017 A New York City Public Library Notable Best Book for Kids A 2018 ALSC Notable Children's Book A VOYA Top of the Shelf Pick

Nightmares!

by

ISBN: 9780385744263

Publication Date: 2015-07-28

"Coraline meets Monsters, Inc. in this delightfully entertaining offering from actor [Jason] Segel and co-author [Kirsten] Miller."--Publishers Weekly The hilariously frightening, middle-grade novel Nightmares! is a Texas Bluebonnet nominee and the first book in a trilogy about a boy named Charlie and a group of kids who must face their fears to save their town. Charlie Laird has several problems. 1. His dad married a woman he is sure moonlights as a witch. 2. He had to move into her purple mansion--the creepiest place in Cypress Creek. 3. He can't remember the last time sleeping wasn't a nightmarish prospect. Like even a nap. What Charlie doesn't know is that his problems are about to get a whole lot more real. Nightmares can ruin a good night's sleep, but when they start slipping out of your dreams and into the waking world . . . well, that's something only Charlie can face. And he's going to need all the help he can get, or it might just be lights-out for Charlie Laird. For good. Praise for the Nightmares! Series: Nightmares! (Bk 1) is a Texas Bluebonnet Nominee "Charlie Laird, who learns fear will eat you alive if you feed it, makes an impression, and...readers will want to accompany him again."--The New York Times Book Review "A touching comical saga...about facing things that go bump in the night."--US Weekly "Comical antics, cartoonish spot illustrations, and creepy villains make for quite an entertaining read."--Booklist "Succeeds at scaring and amusing in equal measure . . . Sweet, charming, and imaginative."--Kirkus Reviews "An engaging and creative story...woven with a generous amount [of] humor."--VOYA "There's humor and a fairly high ick-factor."--School Library Journal "Cleverly crafted...This novel presents just the right mix of 'scary and humorous.'"--ILA Literacy Daily
"External links have been included on this page to assist visitors in locating additional resources related to the material on this page. Following these links will take you to material that was not developed by District 200. District 200 is not responsible for other material or information which you might find through these external links, and does not necessarily endorse any product or service which you may find advertised there."